Wooden windows with the profile 68 mm thick with slightly curved edges are the most popular choice.
They combine the superb style and high durability.
Windows produced with the use of three-ply glued square plywood with face plies combined with each other with micro-dovetails or with the use of glued plywood with monolithic surfaces made of pine, meranti or oak timber. They have a classical form and are rich in fittings and accessories. In a standard package we also add 2 seals by Schlegel Company and a heat-preserving inside-glazing warm edge.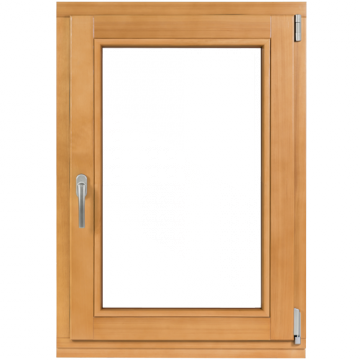 Paint colors

Acajou

Wenge

Cherry

Afromozja

Sapelli

Framire

Sipo

Chestnut

Kempas

Nut

Calvados

Oak

Iroko

Cypress

Old pine

Pine

Acajou

Wenge

Cherry

Afromozja

Sapelli

Framire

Sipo

Chestnut

Kempas

Nut

Calvados

Oak

Iroko

Cypress

Old pine

Pine

8017 Standard

9016 Standard

RAL Palette
Our windows are fitted with handles produced by a renowned brand – ROTO Company. Safety precautions and comfortable use are important factors for us, that is why our standard choice from the rich offer is ROTO Line Secustik handles. They possess hidden protective mechanisms against break-in from the outside through breaching hardware perimeter. Additionally, they possess a self-locking mechanism and a safety pin. Another option is also available: with extra safety measures – a key or a push-button.
Handle colors
Handles with keys enable bolting the window and handles with push-buttons prevent breaching hardware perimeter through prying it open from the outside.
As a standard, our windows are equipped with NT hardware produced by ROTO Company. It allows for easy product service and ensures comfortable exploitation. Additionally, it is possible to increase safety measures by applying special bolting rolls or anti-break-in catches.
Available variants of bolting rolls:
bolting rolls E
bolting rolls P: anti-break-in interlocking mushroom rolls
bolting rolls V: anti-break-in interlocking mushroom rolls with vertical adjustment +/- 0.8
In versions where design is a priority we recommend ROTO NT Designo hardware – the hinge-side is concealed, therefore nothing disrupts the impression of perfect appearance.
In our windows we install glass-panel modules produced by GLASSOLUTIONS Saint-Gobain Company, the world's leader in glass-system production. We install one-chamber and two-chamber modules. It facilitates choosing the right type of glazing depending on the client's expectations – with increased acoustic insulation, safety glass-panels or energy-saving glass-panels. Cooperation with GLASSOLUTIONS and keeping up with the latest technological breakthroughs in the area of glass-panel production allow us to satisfy even the most sophisticated and demanding clients.